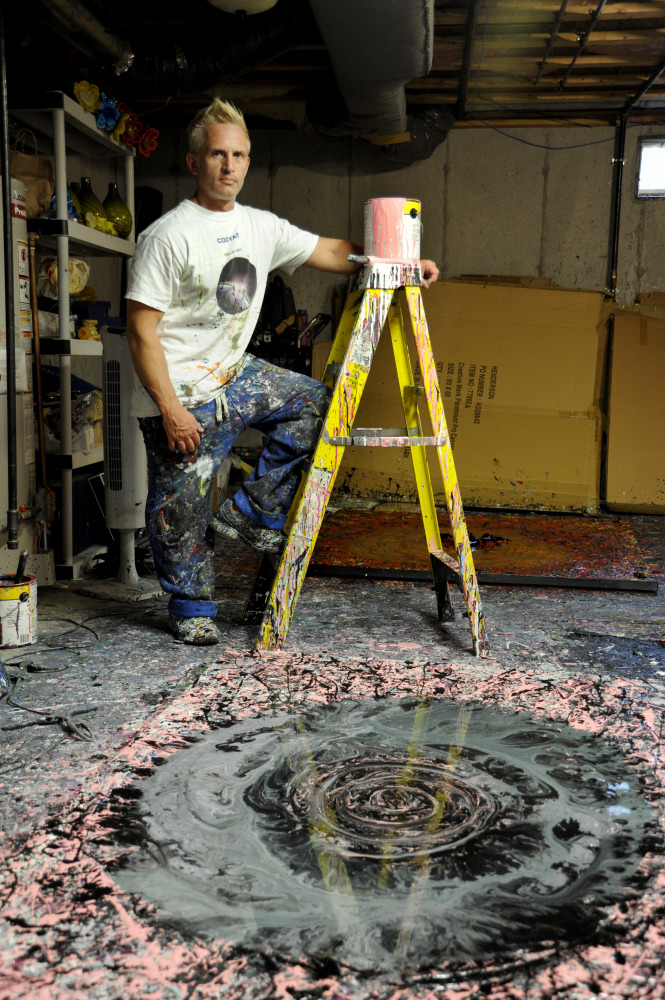 There are no words more appropriate for starting a biography of Paul M Cote than these: "Every good painter paints who he is." Not only were these words spoken by Jackson Pollock, one of his deepest influences, but when reviewing Mr. Cote's life thus far -- a winding road if there ever was -- one recognizes that in the turmoil there is an almost abstract design that is so obviously the soul of his work.
A native to Cumberland, RI, Mr. Cote has no formal art education. In fact he graduated from Johnson and Wales University as a marketing professional, and his first (and longest running) passion has been tennis, playing and teaching professionally. His life has progressed mostly without a paint brush, through hobbies and careers as diverse as a body building and sales, and it was not until after he passed through a period of darkness that he turned towards Christianity, Zen philosophy and Art.
To say Mr. Cote has led a life unique for an artist misses the point. He has led a life unique for anyone, and it is precisely this that gives his art such raw, individual power. Like his life, Mr. Cote's art is pressed, piled and preened, and exaggerates what it means to seek and discover. Each brush stroke, every splatter evokes the principles which have supported and arisen in his life. From his marketing exploits comes his desire to connect his audience to his art; from his athletic careers comes his love of kineticism, his yearning to create perfection, and the union of the mental and the physical. Most important though is his respect and awareness of the subconscious which has been crushed into him by his own purgations.
Now Mr. Cote has been ejected from his ricochet life into the open air of canvas, and he is caroming his viewers into new and fascinating regions of psyche, spirituality and fantasy. He welcomes us to places beautiful in their expression and emotions overwhelming in their revelations, with paintings which are themselves but touchstones to the lives of every passionate.
"Love and Light," says the abstract expression.